Assistance to the airport Ponikve for greater safety
Management boards of the Civil Aviation Directorate of the Republic of Serbia and Airport Nikola Tesla respectively has paid today the official visit to Ponikve Aerodrome in Uzice in order to make donations in airport equipment.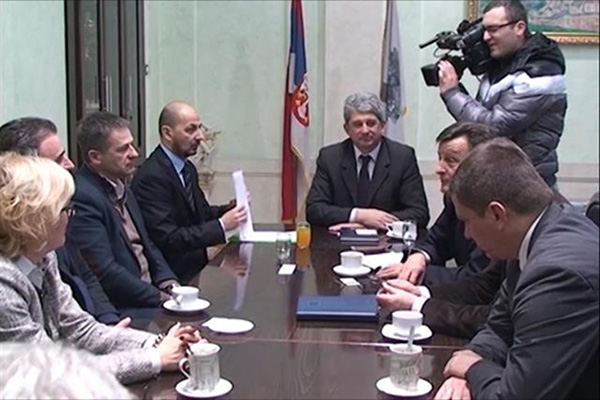 The Civil Aviation Directorate of the Republic of Serbia has allocated 8.81 million dinars, with the aim of raising the safety levels at this aerodrome, using it for testing the runway payload, for developing the project documentation for the main railings project, radio links, as well as implementing staff training.
Belgrade airport donated a motor vehicle Caddy Furgon with the aim of improving the operation, safety and security of this aerodrome, along with 10 hand-held radio stations, three mobile UHF radios, and two towers.
On this occasion, Ms Mirjana Cizmarov, the Director of Civil Aviation Directorate of the Republic of Serbia, said:
"Pursuant to the provisions of the Air Transport Act, the Civil Aviation Directorate of the Republic of Serbia, has allocated the above mentioned funds made available through passenger and cargo carriage fees and charges, originally intended to raise the level of safety in civil aviation.
Directorate will announce annual grant competition in 2015, for all aviation entities in the Republic of Serbia that will be able to submit their projects aiming to contribute to greater safety levels".
During the visit, Mr Sasa Vlaisavljević, acting Director General of Belgrade Nikola Tesla Airport made the following statement:
"Nikola Tesla airport managed to break every record last year in almost every segment of its operations, while the continuing trend in air traffic growth demonstrates its first outcomes in 2015. I am glad to have the opportunity and ability to help our peers at all Serbian aerodromes. Cooperation with Uzice Ponikve aerodrome, dating from December last year, has continued to date by donating the relevant equipment. We also seek to continue cooperation with even more effort and intensity at all levels".
The next week, training for aircraft marshalling will begin at the Airport Nikola Tesla for the employees from Ponikve aerodrome. Belgrade airport is to donate to Ponikve aerodrome the used perimeter railing with a total length of 7,000 meters.